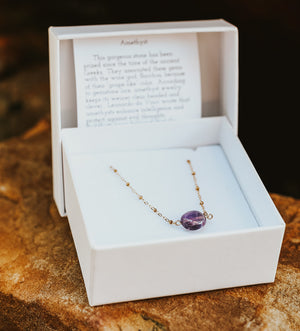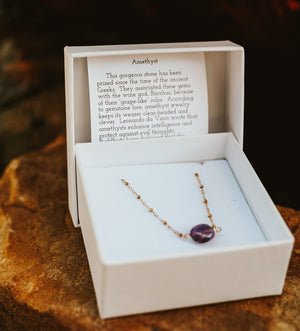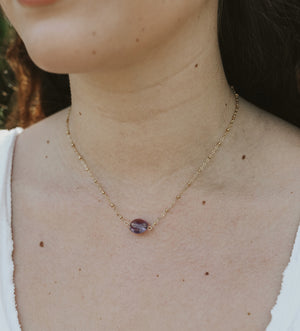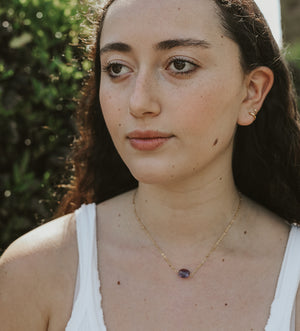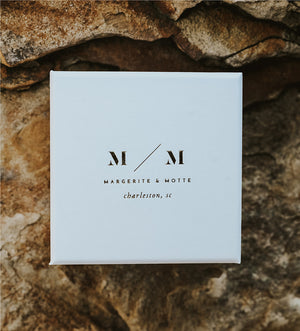 Amethyst (February) Birthstone Choker
Amethyst
This gorgeous stone has been prized since the time of the ancient Greeks.  They associated these gems with the wine god, Bacchus, because of their "grape-like" color.  According to gemstone lore, amethyst jewelry keeps its wearer clear-headed and clever.  Leonardo da Vinci wrote that amethysts enhance intelligence and protect against evil thoughts.  Buddhists have believed that the crystals enhance meditation, and are often used for Tibetan prayer beads.  Many cultures associate this crystal with peace, balance, and courage, and ascribed it to the ability to cure insomnia and relieve pain. 
If you celebrate a February birthday, wearing amethyst can be a symbol of personal empowerment and inner strength.
Simplistic, natural beauty.  This sweet necklace can be worn by itself or layered with other natural beauties of the Margerite & Motte collection.  
14kt gold-filled chain and findings
model is wearing a 16 inch (standard) length necklace
genuine amethyst stone