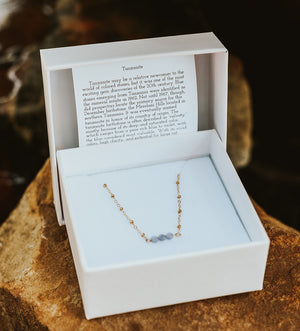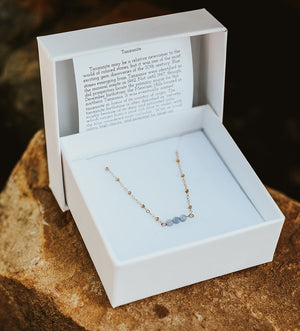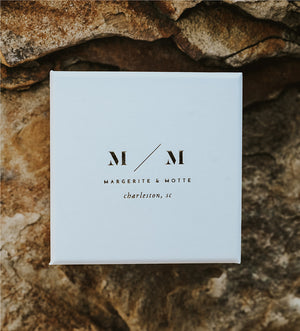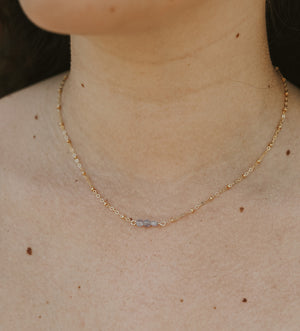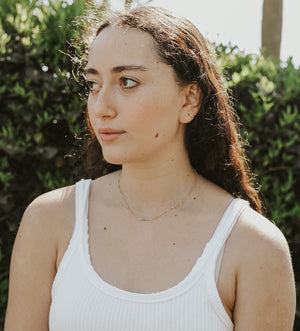 Tanzanite (December) Birthstone Choker
Tanzanite
Tanzanite may be a relative newcomer to the world of colored stones, but it was one of the most exciting gem discoveries of the 20th century. Blue stones emerging from Tanzania were identified as the mineral zoisite in 1962. Not until 1967, though, did prospectors locate the primary source for this December birthstone: the Merelani Hills located in northern Tanzania. It was eventually named tanzanite in honor of its country of origin. The tanzanite birthstone is often described as "velvety," mostly because of its deep and saturated color, which ranges from a pure rich blue to violet, with the blue considered most valuable.  With its vivid colors, high clarity, and potential for large cut stones, tanzanite quickly became a sensation. Today, it is not only a December birthstone, but it is also the gem for the 24th wedding anniversary. 
Tanzanite is commonly believed to facilitate a higher consciousness and stimulate intuition and perception. Some believe that it aids in detoxifying the body and improving vitality. It is said to be a good stone to wear or have near in situations where you need a calming and soothing presence. Although, because of the high vibration rate of the stone, some believe the stone can be a stimulant to the throat and head and preserve youthfulness.
Simplistic, natural beauty.  This sweet necklace can be worn by itself or layered with other natural beauties of the Margerite & Motte collection.  
14ct gold-filled chain and findings
model is wearing a 16 inch (standard) length necklace
genuine tanzanite stones