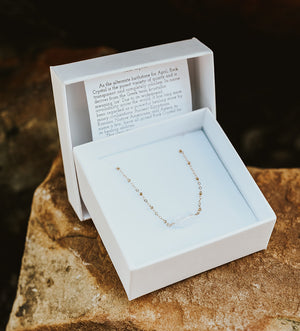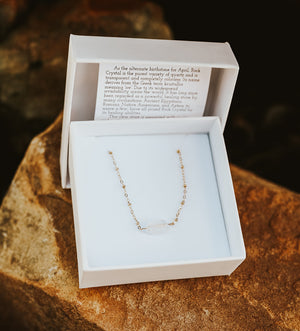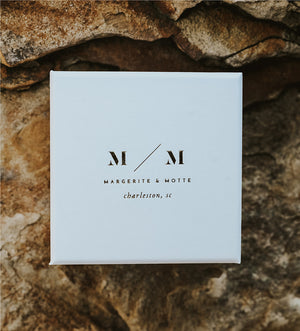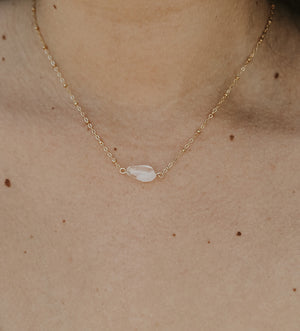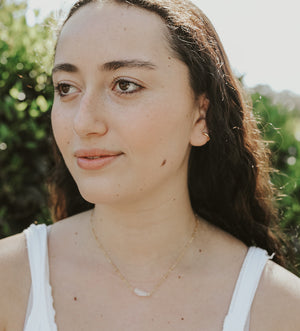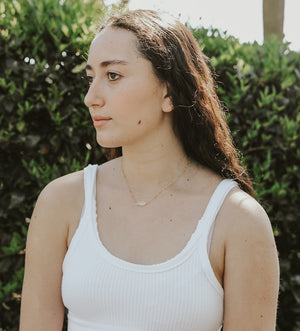 Rock Crystal (April) Birthstone Choker
Rock Crystal
As the alternate birthstone for April, Rock Crystal is the purest variety of quartz and is transparent and completely colorless. Its name derives from the Greek term krustallos meaning 'ice'. Due to its widespread availability across the world, it has long since been regarded as a powerful healing stone by many civilizations. Ancient Egyptians, Romans, Native Americans, and Aztecs, to name a few, have all prized Rock Crystal for its healing abilities. 
This clear stone is associated with purity and positivity which, when worn, can help to bring about personal growth and inner strength.  As Rock Crystal dispels negative energy is it thought to be a great stone to relieve stress. If you sleep with a Clear Quartz stone under your pillow, or by your bed, it could help to rid your bad dreams too.  Its clear nature makes Rock Crystal a master amplifier. Whether you use it with other crystals to enhance their effect, or in your own meditation to energize the intentions and goals that you want to manifest, you might benefit from its boost. 
Simplistic, natural beauty.  This sweet necklace can be worn by itself or layered with other natural beauties of the Margerite & Motte collection.  
14ct gold-filled chain and findings
model is wearing a 16 inch (standard) length necklace
genuine rock crystal