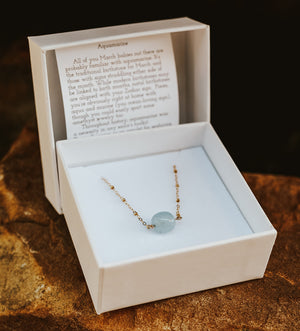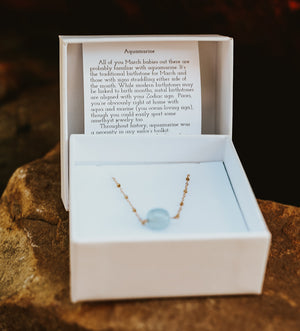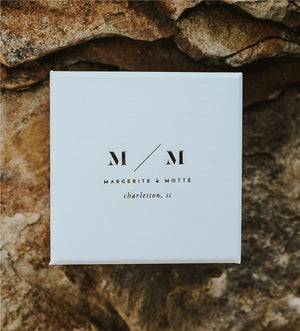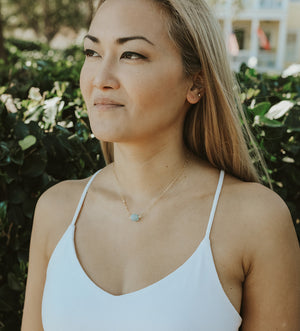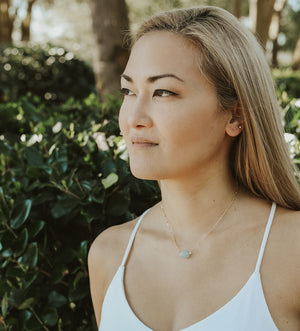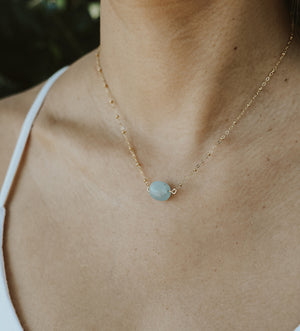 Aquamarine (March) Birthstone Choker
Aquamarine
All of you March babies out there are probably familiar with aquamarine. It's the traditional birthstone for March and those with signs straddling either side of the month. While modern birthstones may be linked to birth months, natal birthstones are aligned with your Zodiac sign.  Pisces, you're obviously right at home with aqua and marine (you ocean-loving sign), though you could easily sport some amethyst jewelry too. 
Throughout history, aquamarine was a necessity in any sailor's toolkit.  Typically worn as an amulet for seafaring people, it offered protection from the dangers of oceanic travel.  It was known for the ability to help the wearer banish fear and tune into revelation. 
Also a traditional gift for a couple's 19th wedding anniversary, it is also recommended to use this birthstone to strengthen your awareness of beauty in your own heart. 
Simplistic, natural beauty.  This sweet necklace can be worn by itself or layered with other natural beauties of the Margerite & Motte collection.  
14ct gold-filled chain and findings
model is wearing a 16 inch (standard) length necklace
genuine aquamarine stone