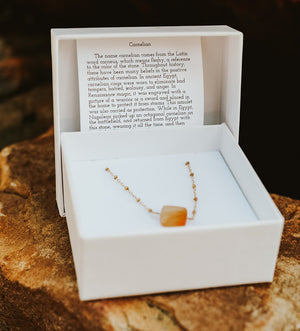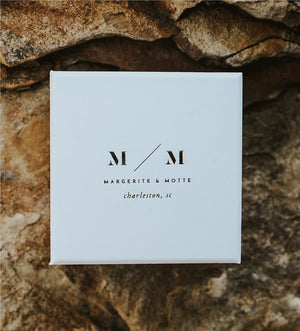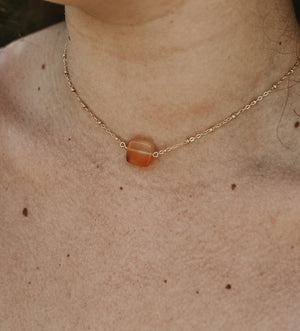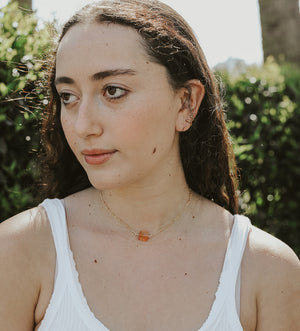 Carnelian (July) Birthstone Choker
Carnelian
The name carnelian comes from the Latin word carneus, which means fleshy, a reference to the color of the stone. Throughout history, there have been many beliefs in the positive attributes of carnelian. In ancient Egypt, carnelian rings were worn to eliminate bad tempers, hatred, jealousy, and anger. In Renaissance magic, it was engraved with a picture of a warrior or a sword and placed in the home to protect it from storms. This amulet was also carried as protection. While in Egypt, Napoleon picked up an octagonal carnelian on the battlefield, and returned from Egypt with this stone, wearing it all the time, and then handed it down to his nephew.
Today, carnelian is thought to be a stone of great value to those who are shy and must speak in public, which is actually one of American's greatest fears.  It is believed that the warm-colored stone will give people the courage they lack so they will speak both boldly and well. 
Carnelian is also considered the birthstone for July.  This beautiful stone is capable of boosting energy and passion and also brings psychic vitality and joy.
Simplistic, natural beauty.  This sweet necklace can be worn by itself or layered with other natural beauties of the Margerite & Motte collection.  
14ct gold-filled chain and findings
model is wearing a 16 inch (standard) length necklace
genuine carnelian stone